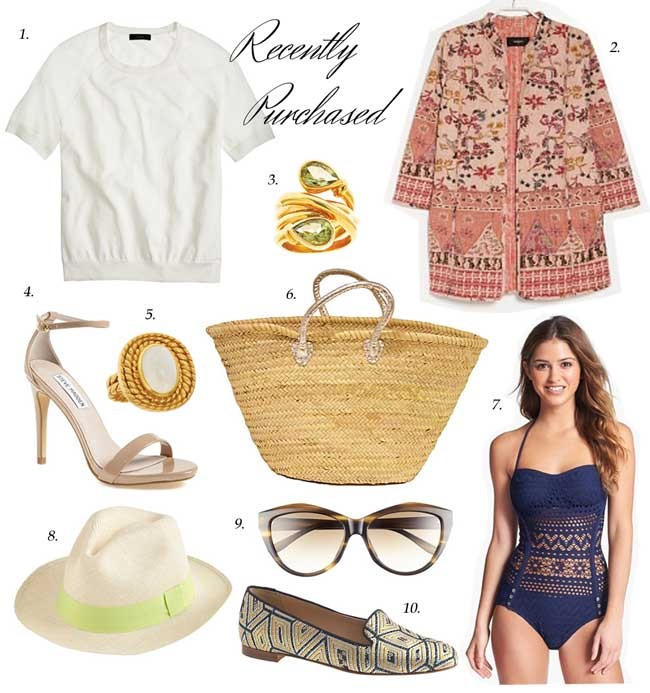 CLICK ITEM TO SHOP OR SEE BELOW!
We all love to see the things bloggers are "coveting" (I prefer wish list), but I thought it would be fun to do a post on what I've recently purchased. Some of these I just received yesterday and one item I'm picking up today (purchased, on hold at
Nordstrom
!). Did you know you can do that? This afternoon the wonderful UPS man dropped off my beautiful
Mango oriental jacket
. It's gorgeous, I can't wait to style it. By the way, Mango shipping? So fast & free over $50! My other little package today - this
tote
from
One Kings Lane
(which is not available now, but check back next week). Love it and it will be perfect for all the errands I run every week (which is a LOT). The purchase I just made tonight? The
Robin Piccone
one piece
swimsuit
. I've been wanting a one piece suit and this one is amazing. I tried it on in the store and had a think about it a bit. During that "thinking time", it went on SALE! Woot! I also picked up these cutie pie
espadrilles
.
Can you tell I'm a little obssessed with
Julie Vos
jewelry lately? I love the chunky gold pieces, so beautifully crafted. Not to mention their customer service is fantastic. I bought the
Tatiana ring
in a size 5. However because the ring has a thicker band, I needed to go up a size. When I called, the rep held the size 6 for me, told me to ship it directly to her with a note and she would send it back to me.
LOVE....
I bought all these items because I saw them as special and pieces I can style various ways. I can dress them up or down, at the beach or out to dinner. I hope you'll stay tuned to see how they are styled in the next few weeks. I also created a "Recently Purchased"
Pinterest board
. Keep posted on what I'm purchasing and what I love about it! :)
More on my "Wish List"

There's a fantastic giveaway tomorrow on Simply Lulu! Happy Thursday!
Bloglovin
|
Facebook
|
Instagram
|
Twitter
|
Pinterest