*links below photographs and boards may or may not be exact depending on availability*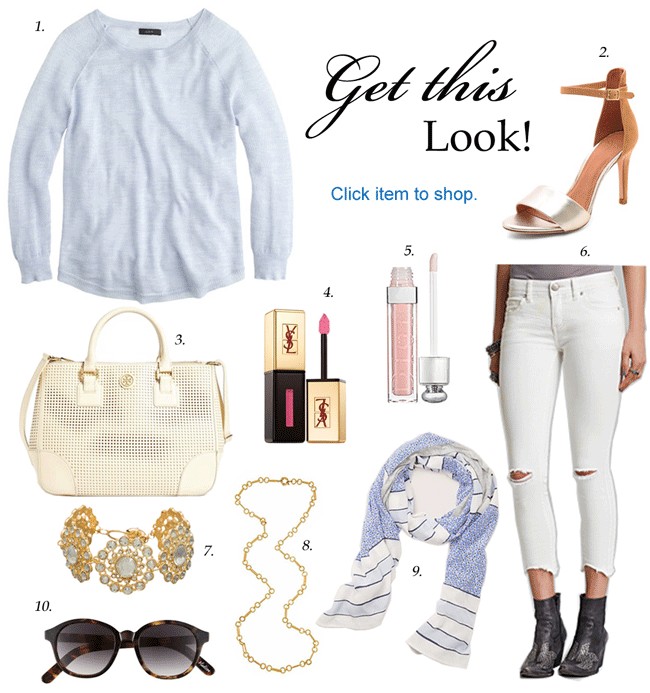 My family used to vacation in Scottsdale, Arizona each year. My classmates would always laugh and say why are you going to the desert (they were going to Florida)? But those trips were some of my most favorite memories growing up. Every year we would plan an outing - a hot air balloon ride, jeep & horse ride through the desert, or the Grand Canyon. There was also plenty of relaxing by the pool because there was always sunshine. Almost every day there was a cloudless crystal blue sky. When we would get those, not so often days at home, we would say, "it's an Arizona sky today!"
This
sweater
from
J.Crew
is a beautiful shade of blue. It's perfect for layering during the spring and light enough to still wear through summer. Find your perfect shade of a
blue sweater
! I love bringing out the summer jewelry too and can't get enough of
Julie Vos
' collection, my favorite
bracelet
,
necklace
and
earrings
! I've been looking for white
distressed jeans
and this
Free People
pair are just perfect and a perfect price. I am a denim girl, what can I say?
Thanks for stopping by, have a wonderful Wednesday!
Bloglovin
|
Facebook
|
Instagram
|
Twitter
|
Pinterest